a.k.a. En mouvement, sans mouvement (French title)
Instrumentation 2(2 dbl. picc)/2(2 dbl. E hn)/2(2 dbl. bass cl)/2(2 dbl. cbn); 4/2/3/1; timp + 2 perc; harp; orchestral strings
Percussion requirements (1) mba, glock, lg. bass dr; (2) vib, whip, snare dr, lg. tamtam
Timing 5′
Composed 2013
Commissioned by the Montreal Symphony Orchestra/Orchestre symphonique de Montréal
World Premiere October 29, 2013, National Arts Centre, Ottawa, Ontario. Montreal Symphony Orchestra; Kent Nagano, conductor
Performances by Montreal Symphony, Edmonton Symphony, l'Orchestre de la Francophonie
Performance Note Moving, Still was commissioned as part of A Canadian Art Triptych inspired by Canadian works from the Montreal Museum of Fine Arts collection. The other movements are Simon Bertrand's Gravité (inspired by Jean-Paul Riopelle's Gravité) and Scott Good's Evening, North Shore, Lake Superior (inspired by Franklin Carmichael's North Shore, Lake Superior). Moving, Still may be performed as a stand-alone piece or as part of the triptych (in order, Bertrand, Good, Ryan). Total timing of A Canadian Art Triptych is ca. 16 minutes, and may be performed with projections of the original artwork. For more information, please contact me.
Programme Notes
The work of Canadian artist Betty Goodwin (1923-2008) expresses duality: fragility with strength, surface with depth, individuality with collectivity. Two dimensions create the illusion of three. Solid black from a distance reveals flashes of colours up close. The still form of a nest belies the inner movement of countless twigs that weave around each other and seek to escape. Inspired by her Nerves No. 10, Moving, Still reflects these qualities in sound: layer upon layer, colour upon colour, tempo upon tempo, the sustained tones of a single large chord enclosing constant activity.
Moving, Still is a commission by the Montreal Symphony Orchestra from composer Jeffrey Ryan, and is dedicated to the memory of Betty Goodwin.
L'œuvre de l'artiste canadienne Betty Goodwin (1923-2008) est une expression de la dualité: la fragilité et la solidité, la surface et la profondeur, l'individualité et la collectivité. Deux dimensions créent l'illusion d'une troisième. Un noir solide d'une distance relève des éclats de couleurs tout près. La forme immobile d'un nid dément le mouvement intérieur des brindilles innombrables qui se tissent et essaient d'échapper. Inspiré par son Nerfs no. 10, En mouvement, sans mouvement réfléchit ces qualités en son: couche sur couche, couleur sur couleur, tempo sur tempo, les tons soutenus d'un seul grand accord unique enveloppant un mouvement constant.
En mouvement, sans mouvement est une commande de l'Orchestre symphonique de Montréal au compositeur Jeffrey Ryan, et est dédié à la mémoire de Betty Goodwin.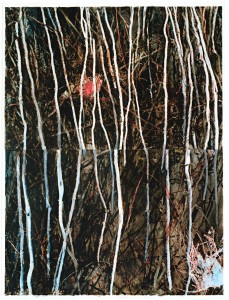 Betty Goodwin's Nerves No. 10
(1993)
Oil pastel, tar and wax on chromogenic print
Montreal Museum of Fine Arts
Photo: Christine Guest MMFA
Reviews
Ryan's piece allowed the audience to experience both the stillness and agitation within the work until it finally explodes. I had visceral reactions to Ryan's angst-ridden Moving, Still that I rarely experience in the concert hall, and my initial impression of the artwork was transformed. … The experience of seeing art projected behind a live orchestra can be a powerful medium, as Ryan's Moving, Still proved. (Stephen Raskauskas/BachTrack.com)

Jeffrey Ryan est le plus complexe et le plus riche et…le propos relaie bien Nerves n° 10 de Betty Goodwin. Bref : excellente idée et expérience concluante. (Christophe Huss/Le Devoir)

Jeffrey Ryan's Moving, Still…had an inner integrity that lifted the results above the pattern norm. (Arthur Kaptainis/Montreal Gazette)

Most appealing was Jeffrey Ryan's highly charged Moving, Still inspired by Betty Goodwin's Nerves No. 10. (Ossama el Naggar/Concerto.net)

…each was a gem, worth repeated hearings. (Richard Todd/Ottawa Citizen)
PDF perusal score
Moving Still perusal

Get music
Full-size Score $43 print, $26 PDF
Study Score $26 print
Conductor score + parts available on rental
To purchase or rent, please contact me.