Instrumentation English horn solo
Timing 5′
Composed 2010
World Premiere Awaiting premiere
Recorded by Beth Orson on My Soul Upon My Lips: Music for Woodwinds
Programme Notes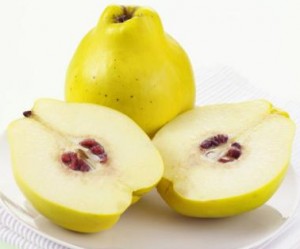 Some Biblical scholars believe the fruit that tempted Adam and Eve in the Garden of Eden was not an apple, as the story is usually translated, but a quince. Though most varieties are too hard and acidic to eat raw, quinces are frequently (though judiciously) used in preserves to add a distinctive edge and flavour. The English horn too, with its silky sensuous tone and a double-reed edge, adds a distinctive flavour to the sound of any ensemble, distinctive enough that one must be judicious in its use. The quince thus provided an appropriate inspiration for this solo English horn work about temptation with a bite underneath.
Music is sound, of course, and to the ear, "quince" could well be "quints" and so the number five pervades the entire piece. The interval of a fifth is frequently heard, and rhythmically every moment of this five-minute work is part of a five, be that a quintuplet, a measure of 5/4, 5/8, or 5/16, or a combination of fives within fives.
Quince is dedicated to oboist/English hornist Beth Orson with thanks for her invaluable advice. It was made possible through an Artist Grant from the Canada Council for the Arts.
PDF score (free download—go, play!)
QuinceEnglishhorn

Audio
Quince performed by Beth Orson, English horn; from the album "My Soul Upon My Lips"
Get music
Score $4.50 print, or PDF free above
To purchase, please contact me.