Concerto for violoncello and orchestra
Instrumentation solo violoncello; 2(2 dbl. picc)/2/2/2; 2/2/0/0; timp + 1 perc; orchestral strings
Percussion requirements vibraphone, marimba, anvil (may substitute brake drum), low tam-tam, snare drum, bass drum
Timing 25′ in three movements
Composed 2022
Commissioned by Ariel Barnes with support from the Canada Council for the Arts
World Premiere TBD
Programme Notes
Now
Then
Yet To Come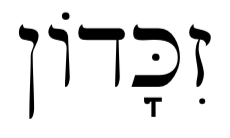 The importance of Memory (Zikaron in Hebrew) speaks to all of us. Through memory, we know things that we experienced, we know things that happened before us that we did not experience ourselves, and, by being remembered, our stories continue after we are gone. Individual memory is passed down through families, fostering a sense of identity and lineage. Collective memory connects us to others by sustaining historical events and practices. This concerto for violoncello and orchestra, developed in collaboration with Canadian cellist Ariel Barnes, takes as its starting point the particular role of memory in Judaism, exploring how memories are held by the individual (the soloist), by the collective/community (the orchestra), and shared between the two.
The modes, harmonies, melodic styles, and ornamentation common in Jewish music convey deep emotional expression, while the intersections between Jewish and non-Jewish materials reflect our connectedness across faiths, borders, and ethnicities. Each of Zikaron's three movements draws its source material from a different Jewish mode and traditional melody (including melodies that Ari's father, renowned Canadian composer Milton Barnes, used in his own compositions) with the transfer, development, repetition, and reinterpretation of material from one movement to the next as a connecting thread, reflecting how the nature and flow of memory transcend linear time. The first movement Now, drawing on fragments from Marcello's Italian Ashkenazic Hanukkah song Ma'oz Tzur, evokes active memory-making with insistent pendulum-like bowings, and repeated musical cells suggesting the synapses where connections are formed and memories are created, stored, recalled, and even lost. In the second movement Then, the solo cello sings in achingly slow motion the traditional memorial melody El Malei Rachamim amid swirling orchestral colours and gestures. Finally, Yet To Come embraces the joys of all that the future has to offer in playful dancing patterns drawn from the Passover counting song Chad Gadya.
Zikaron is dedicated to the memory of Milton Barnes and Reuben Ryan, and was made possible with generous support from the Canada Council for the Arts.
PDF perusal score
Zikaron perusal

Get music
Store coming soon. Meanwhile, please contact me.