Instrumentation mezzosoprano and piano
Vocal Range G3 to A5
Timing ca. 25′
Composed 2017
Words by Emily Carr, adapted by Jeffrey Ryan
Commissioned by Canadian Art Song Project
World Premiere March 19, 2018, Walter Hall, University of Toronto, Toronto, Ontario. Krisztina Szabó, mezzosoprano; Steven Philcox, piano
Programme Notes
Oh, These Mountains!
A Glimpse of God
Rhythm and Space
Letters (Reams of Horrid Letters/Mr. Hatch Wrote/Compliments, Hanna Lund)
A Movement Floating Up
I'm Just Whizzy!
Uncovered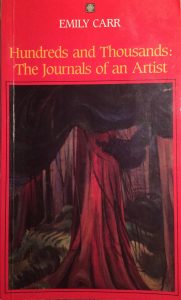 Many years ago, at a used bookshop in Cleveland, I discovered Hundreds and Thousands, the published journals of the iconic Canadian painter Emily Carr (1871-1945). Carr wrote about her struggles to be an artist, both creatively and practically: to develop her own voice, to adequately convey what she saw to the canvas, to discover the intersection of art and spirit, to deal with self-doubts and frustrations, to find an audience, to sell her paintings, to make ends meet. As I was just finishing my doctoral studies and about to embark on my freelance career, her words resonated deeply with me. The challenges she wrote about were much like the ones I was about to face, and indeed every artist faces.
For me an art song is a little opera scene, with character and back story, and, like the orchestra in an opera, the piano never merely accompanies. I knew immediately that Carr's journal entries, personal yet universal, could bridge song and theatre in a kind of monodrama of an artist's life—though it was not easy to condense the texts from a 300-page book! These resulting seven scenes provide a series of snapshots chronicling Carr's parallel journeys of capturing the mountain to her canvas and conquering the mountain to artistic success and validation.
Miss Carr in Seven Scenes was commissioned by Canadian Art Song Project for mezzosoprano Krisztina Szabó and pianist Steven Philcox.
PDF score excerpts
Texts
Oh These Mountains excerpt
A Glimpse of God excerpt
Rhythm and Space excerpt
Letters 1 excerpt
Letters 2 excerpt
Letters 3 excerpt
A Movement Floating Up excerpt
I'm Just Whizzy! excerpt
Uncovered excerpt
Get music
Score $42 print, $25 PDF.
To purchase, please contact me.