Instrumentation Baritone and large ensemble. fl(afl)/ob(Ehn)/cl(bcl)/bsn; hn/tpt/ten.trb; 1 perc; harp; strings 11111
Percussion requirements glock, vib, mba, med. tom-tom, bass dr, lion's roar, triangle, finger cymbal, susp. cymbal, 2 temple bowls, med. tam tam
Vocal Range A2 to Ab4
Timing 32′ in ten movements
Composed 2011
Poems by K. V. Skene
Commissioned by New Music Concerts and Turning Point Ensemble, with assistance from the Canada Council for the Arts and the Deux Mille Foundation
World Premiere January 29, 2012, Enwave Theatre, Toronto, Ontario. Tyler Duncan, baritone; New Music Concerts Ensemble; Robert Aitken, conductor
Programme Notes
Overhead Thunder Clouds
Ungovernable As My Heart
To The End of the World
A Seed Planted in Me
Fade To Winter
Nothing Has Changed
A Circle Bending
White Shadows Without Shape
The Gate of My Home
Echoes of Light Shining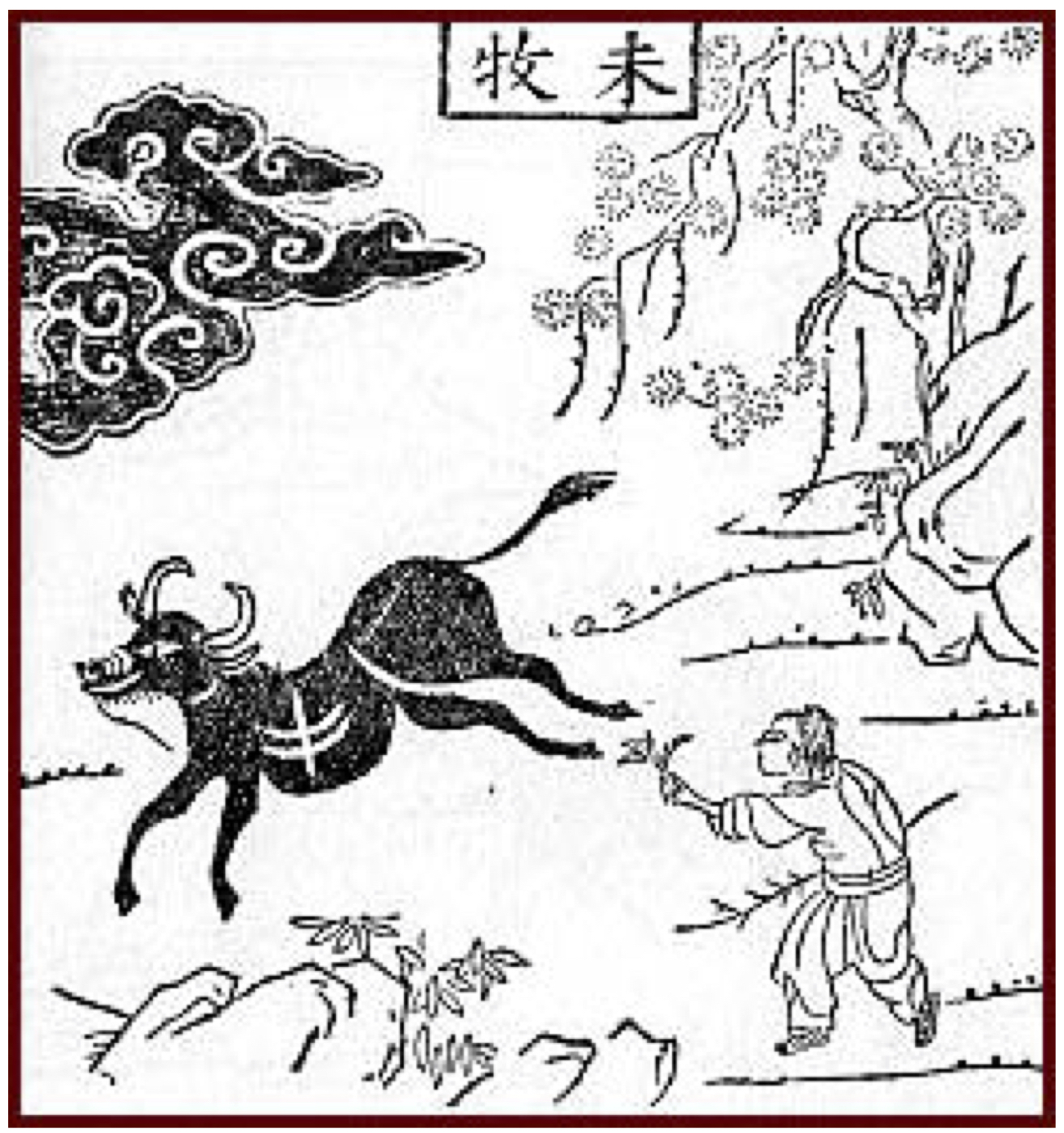 The story of the oxherd taming his wild ox comes from Zen Buddhism, and has provided (and continues to provide) the inspiration for many different series of images. The ox, representing the untamed mind and ego, is gradually brought under control by the oxherd. In many versions, as the ox is tamed it turns progressively whiter until it becomes transparent and vanishes, and a perfect circle of Enlightenment is achieved.
Centuries later, these images inspired Canadian poet K.V. Skene to write a set of ten poems as a contemporary response to these images and this story. When I discovered these poems in an issue of Descant, I was drawn to the richness and the musicality of her poetry, that evoked her inspiration in language both timeless yet thoroughly of our own time.
The half-hour journey of this work takes us from chaos to order, complexity to simplicity, frenetic to focused, dark to light. The multi-layered first movement, Overhead Thunder Clouds, opens with scattered energy, a large-ranging vocal line depicting the oxherd's inner duality, and an instrumental emphasis on lower register and darker colours. As the music proceeds from song to song, the oxherd meets, faces, and forges a relationship with the ox, frequently represented by the solo bassoon. By the fifth song, Fade to Winter, the oxherd is able to untie and embrace the ox, which both frightens and liberates him, and in the sixth song, he wonders whether he made the right choice in undertaking this journey, fearing that Nothing Has Changed. But as the ox disappears, the oxherd finds a new sense of calm, release and detachment, culminating in the warm colours, simplicity and cohesion of the final song, Echoes of Light Shining.
The Whitening of the Ox was commissioned by New Music Concerts (Toronto) and Turning Point Ensemble (Vancouver), with the generous assistance of the Canada Council for the Arts and the Deux Mille Foundation.
Thanks to Beth Carter and the Nikkei Centre (Vancouver, Canada).
PDF perusal score
Ox score perusal

Audio excerpts
Get music
Score $117 print, $70 PDF
Solo piano/vocal $50 print, $30 PDF
Ensemble parts $178 print, $107 PDF
Score + parts also available on rental
To purchase or rent, please contact me.