Triple concerto for clarinet, violoncello and piano, and brass band
Instrumentation solo clarinet, solo violoncello, solo piano; Eb sop. cornet/4 solo Bb cornets/rep. Bb cornet/2 Bb cornets; Bb flug./solo Eb ten. hn/2 Eb ten. hns; 2 Bb baritones/Bb ten. trb./bass trb; 2 euph./Eb bass/Bb bass; timp + 2 perc
Percussion requirements (1) chimes, glock, log dr, bass dr, maraca, triangle, watergong; (2) vib, snare dr, lg. lion's roar, whip, tambourine, crash cymbals, susp. cymbal, lg. tamtam
Timing 14′
Composed 2001
Commissioned by the Hannaford Street Silver Band with assistance from the Laidlaw Foundation
World Premiere November 20, 2001, Massey Hall, Toronto, Ontario. Joaquin Valdepeñas, clarinet; David Hetherington, cello; and Peter Longworth, piano; Hannaford Street Silver Band; Gary Kulesha, conductor
Recorded by the Amici Chamber Ensemble and the Hannaford Street Silver Band, conducted by Gary Kulesha, on Connections in Brass
Programme Notes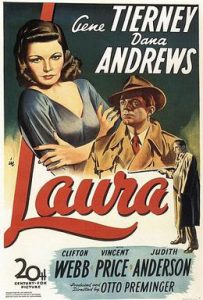 I'll never forget the weekend Laura died…
So begins the narration in Otto Preminger's Laura, a classic film noir from 1944. Film noir is a style of black-and-white American film that drew heavily on German expressionism of the 1930s (indeed, many of the early noir directors were Germans who had fled to the United States), and that developed during and after the second World War, from the 1940s through to the early 1960s. Double Indemnity, Sunset Boulevard, The Woman in the Window, Kiss Me Deadly — these are just a few of the many films that display the common characteristics of film noir: an ongoing narration, a murder, a sense of inescapable fate, the "tough guy" (as a kind of anti-hero), the "femme fatale" (with whom the tough guy falls, hopelessly and against his better judgment, in love), the corpse (who often provided the narration), the use of mirrors (symbolising duplicity), windowblinds (the shadows across a character's face symbolising jail or entrapment), the clock (symbolising time running out for our doomed anti-hero)… Watch a few of these movies, and the recurrent themes and images become fascinatingly apparent.
The music in these films is itself fascinating to me: brooding, mysterious, melodramatic, often lushly romantic, with sweeping gestures and heightened tension. The visual and aural characteristics of film noir have provided the inspiration for this one-movement triple concerto. Though the piece does not specifically tell a story, ideas such as an opening narration, elements that begin as one thing but are revealed to be something else, the sense of time running out, and the use of flashbacks and non-linear time have all found their way into this work. As well, the three soloists, in a general way, suggest the three characters found in virtually every film noir: the femme fatale, the tough guy, and the corpse who so often got the whole story started.
The title itself is a quotation from Waltz into Darkness, a roman noir (the film's literary equivalent) by the pseudonymous Cornell Woolrich, which was later made into the film Mississippi Mermaid, directed by François Truffaut.
PDF perusal score
Anathema perusal

Anathema piano perusal

Audio
Get music
Full-size Score $72 print, $44 PDF
Study score $44 print
Solo part set $34 print, $20.50 PDF
Conductor score + parts available on rental
To purchase or rent, please contact me.