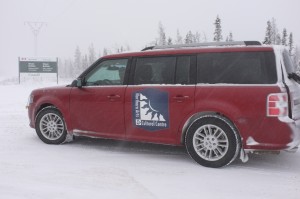 Road trip! Back in Hay River, we'd been met by Summer Meyer from NACC, who had driven in from Yellowknife in the NACCmobile. Now we all piled in for the drive to the town of Fort Smith, Listen Up stop #5, a journey of three hours (or so, there was lots of blowing snow to slow us down) that took us through Wood Buffalo National Park. Sadly, we did not see any herds of buffalo on the way, though we kept our eyes peeled. The buffalo were just not cooperating that day.
While Inuvik was the furthest north we would get on this tour, Fort Smith was the furthest south, right on the Alberta border, on the Slave River. As an access point to the Northwest Territories, Fort Smith was historically very important as a transportation hub, though the eventual rail line to Hay River meant that Smith eventually became pretty much bypassed. Some of the many things Fort Smith is known for are the Northern Life Museum and the nesting grounds for pelicans (yes, really!) and whooping cranes (after which our fantastic B&B was named).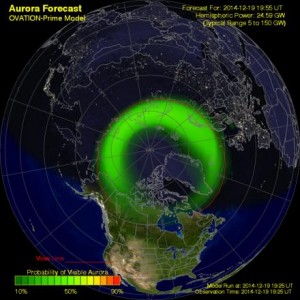 Fort Smith is also known for being right in the track of the strongest and most frequent displays of aurora borealis. The astronomer in me had come to the NWT eager and expecting to see some great aurora shows. But here we were in the third week of a three-week tour, and I had been thwarted at every turn. When the sky was clear, the aurora were weak or non-existent. When the aurora tracker website said chances were good, the clouds had moved in. One night in Fort Smith, we met with a local astronomer outside of town, next to the river where it was nice and dark. But the lights were very, very faint. I was losing hope. Then on our last night in town, the forecast was promising, and I headed out about 11 p.m. to walk down the street to a hilly treed area a bit removed from the streetlights. There was thin cloud, and no lights. I returned to the B&B, cold and frustrated. At midnight, I went out again, determined to give it one last attempt. As I reached the clearing on the hill, the clouds cleared, and the lights began. They danced and swooped and swelled across the sky, a brilliant green. Everywhere I looked, the lights were changing. It was beautiful.
After about 25 minutes, I began to wonder how much longer I could stay out in the cold. As if in response, the lights faded and disappeared. It was as though they had put on a show just for me. Of course, I knew that my iPhone camera was not going to capture any of it — for that one needs a tripod (no hand is steady enough) and a camera that can take a long exposure. I tried anyway and got photos like the one on the left. But what I saw was like the photo on the right. The memories are even better.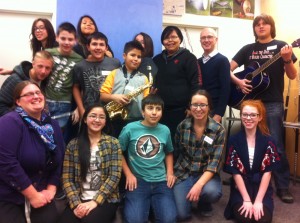 At Paul William Kaeser High School, we were working with the Grade 8 Band Class, led by Kelsey Smith. Kelsey took my Orchestration class at UBC several years ago, and I was looking forward to seeing her. She has done great things with the students here, and we had a different experience here too because the students all play band instruments. We had them work in pairs to write their melodies, and had a great time performing many of them. Such an enthusiastic group that dived right in! As in every place we visited, there were students who really got the composition spark, who got so excited about being able to explore music and creativity in this way. I hope that in every town Carmen and I have left something for the teachers to build on. And it will certainly be a treat to see some of these students in Yellowknife for the show in May.
Also, we visited the nearby alpaca farm:
Photo 1: Carmen Braden
Photo 4: NOAA
Photo 6: ITI, GNWT
Photo 7: Pedro Marcellino