On another plane to head back up along the Mackenzie River to the sixth and final Listen Up stop, Fort Simpson. The only village in the NWT. The airport is so small ("how small is it?") that the luggage handlers just load the bags onto a little flatbed truck, back up to a little door, and toss everything onto a shelf. Easy peasy, and almost no waiting.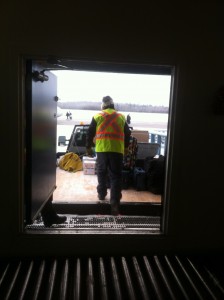 Fort Simpson is where you go if you want to be visiting Nahanni National Park Reserve, home to Virginia Falls and a spectacular park that is on UNESCO's World Heritage List. Which for me will have to wait for another visit. Because there was composing to do!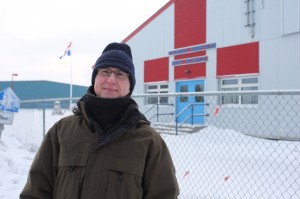 Our last school was Thomas Simpson High School, this time to work with a group of Grade 7, 8 and 9 students, who had signed up for the experience. And because of a badminton trip, we did both workshop sessions in the same day. (We'd done this in Hay River, too, because what would have been our second day was a PD day.) Doing two sessions in one day is especially tiring, but it's worth it when the group is as engaged as the students at Simpson.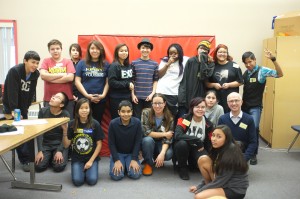 There was one girl who, at the end, volunteered first to sing her melody for the class. When she got to the front of the room, she was obviously nervous. But she took a deep breath, and she sang. Beautifully. And as she returned to her seat, she admitted she had never sung in public before. Those are the kinds of moments we do this for, when music gives a young person the courage to take a leap and express themselves in a way they haven't before.
Fort Simpson, the last stop on an intense three-week tour, and we were leaving on a high. Every place we visited was unique, and every place gave us a unique experience and unique memories. What a pleasure it was to meet and work with so many young people and their dedicated teachers. Now it was back on a plane to Yellowknife, then another to Edmonton, then another home to Vancouver, with a big stack of music to sift through as I create the piece that we'll reconvene at the Northern Arts and Cultural Centre in May to premiere, joined by the Gryphon Trio and conductor Rob Kapilow. A big mahsi cho/merci beaucoup/thank you to Marie, Treena and Summer at NACC for organising all the logistics of a complicated tour and ensuring it all went so smoothly, and to composer Carmen Braden for being such an amazing assistant, guide and colleague.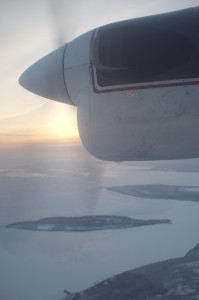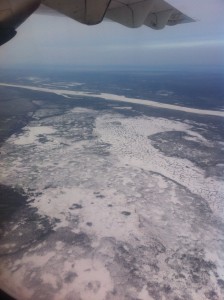 But before we left Fort Simpson, it was one last look at the Deh Cho,
the mighty Mackenzie River:
Photos 3 and 5: Carmen Braden
Photo 4: Freda Blyth