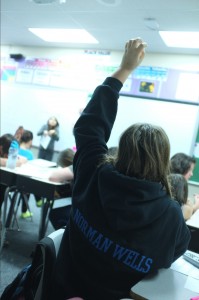 Our next Listen Up stop was Norman Wells. Only accessible by air for much of the year. Population ca. 800. Norman Wells is an oil town. In fact, three islands were built in the middle of (very wide at this point) Mackenzie River to access the oil. And back in the Second World War, the Americans built an oil pipeline from Norman Wells to Alaska in order to protect the northernmost US state from Japanese invasion. Then the pipeline was abandoned.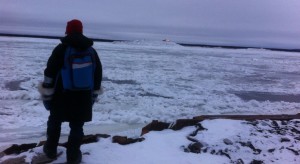 Heading into the airport parking lot, we discovered that the car that was to be left for us wasn't there. That is, after entering every unlocked car that had keys inside. A surprising number of people here leave their cars unlocked with the keys inside. So we took a cab to downtown. Which is a few stores around a parking lot, including the ubiquitous-in-The-North "Northern" store. Did I mention this place is small?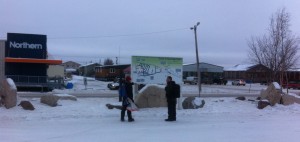 Mackenzie Mountain School was not only our first workshop actually taking place in a school, this group was also the youngest students we'd be working with: Mr. McGregor's Grade 5/6 class. There's no formal music program in this school, but there was so much engagement and enthusiasm in the room!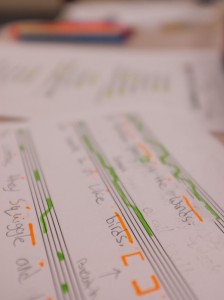 My composer assistant Carmen Braden and I have found generally that it takes most of the first session for the kids to get used to us. There's usually a little shyness and not-wanting-to-volunteer. But there are also always a few fearless students too. By the second day, everything opens up, and everyone's on board.
It's a very rewarding thing to help young people find their inner composer and discover creative ways to get their musical ideas down on paper, to communicate their ideas to performers.
And we left with a lot of great material. How will I ever pare it down to what will fit into a 25-minute piece?
Also, this greeted us at the airport:
Photos 1, 4, 5 and 6: Carmen Braden