The Listen Up tour began last week when composer Carmen Braden and I arrived under cover of darkness (which, in the Arctic in November, does not necessarily mean "late"). I had been there only three weeks before for the project launch concert, but there had been a big change in the city: a blanket of snow and much lower temperatures. Lake Niven, behind the hotel, was frozen over.
Though Listen Up normally takes place in a school, it was impossible to choose only one school from so many choices, so for the Yellowknife sessions, we worked with the 20 members of the Yellowknife Youth Choir (representing many schools), and met after school in a downtown church.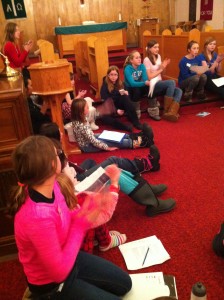 Carmen and I had had multiple conversations to plan the workshop activities, and this was our first chance to see what works. Still, we knew every stop on the tour would be slightly different: here, rather than work with one grade, we had singers ranging from Grades 5 to 11, with varying levels of music training but lots of experience singing.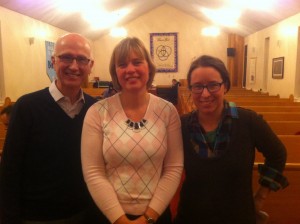 The singers had already written poems on this year's theme of "The Four Elements". Day 1 was all about musical time, text analysis, and rhythm. It all starts with the words! Day 2 was all about finding the melodic contours needed to express the words and the emotions in the poetry. At the end, a few brave souls sang their melodies to the group.
What a great start to our tour! These young singers were so engaged. It's especially rewarding when you see a light bulb go on in a young person's eyes, and when the one who said on the first day "I'm shy" is eagerly volunteering to perform on the second day. A big thanks to Susan Shantora for putting together a choir of such talented young people.
Also there was the Goat House:
Photos 1 and 3: Carmen Braden
Photo 4: Pedro Marcelino