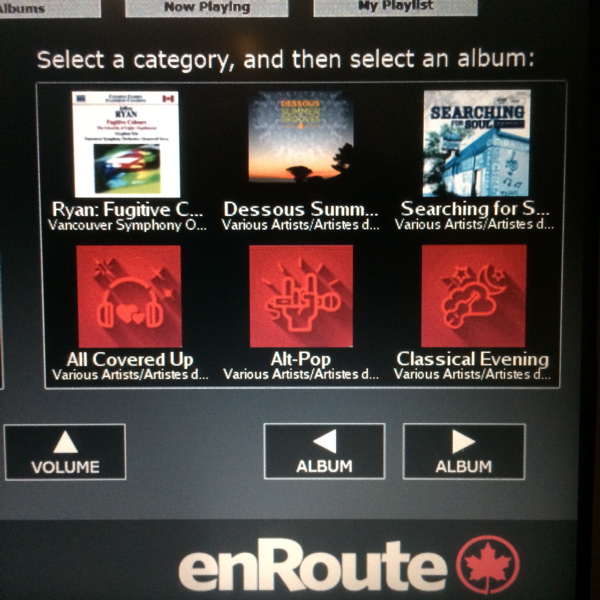 For someone whose job is largely sitting in front of manuscript paper, pencil in hand, I seem to spend a lot of time on planes. The exact number varies widely from year to year. A couple of years ago I did a lot of travelling for concerts and projects, and was on 48 different planes in a twelve-month period. So I am quite familiar with the Air Canada's "EnRoute" in-flight entertainment system.
Several years ago, Naxos launched its Canadian Classics series with my portrait CD Fugitive Colours, a compilation of music I wrote for the Vancouver Symphony during my composer-in-residency, performed by the VSO under Bramwell Tovey with special guests the Gryphon Trio. That residency, and having the chance to work with and write for so many wonderful performers, was a productive, exhilarating and expanding experience for me, and I'm very proud of this disc.
For a while I thought how cool it would be if Fugitive Colours were to appear on the screen on the back of the plane seat in front of me. But the album seemed pretty nichey, and after a few years, I figured the timeframe had passed.
But no! Last week, I was flying back home to Vancouver from Toronto, and after watching Ab Fab: The Movie and getting caught up on Modern Family, I scrolled through the audio section. And there it was. I don't think the passengers near me heard my gasp, but they probably did wonder why this weirdo kept taking photos of the screen.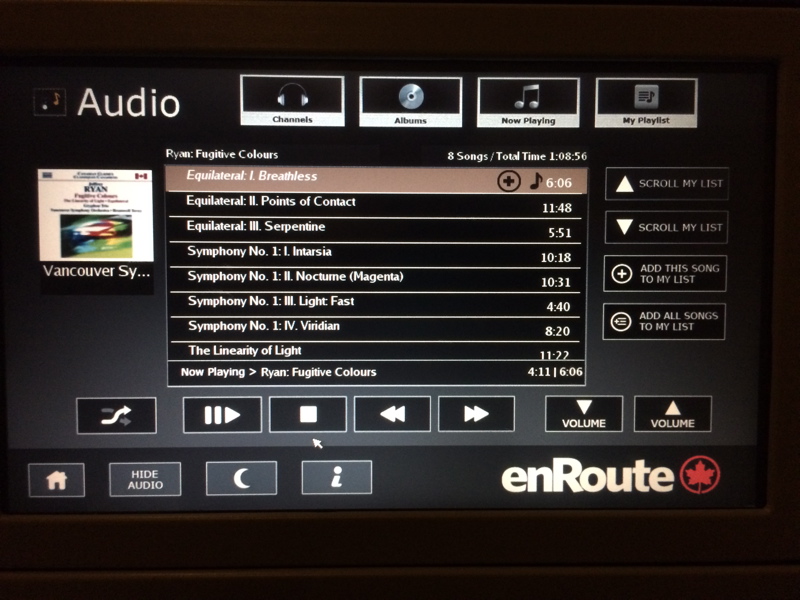 This December and January, Air Canada's in-flight audio entertainment is featuring a lot of Canadian orchestras (Calgary, Edmonton, Toronto, Winnipeg, National Arts Centre, National Youth Orchestra, and more) and, I am honoured to say, the VSO with Fugitive Colours. So if you're flying Air Canada in the next couple of months, be sure to plug in your headphones and check it out!