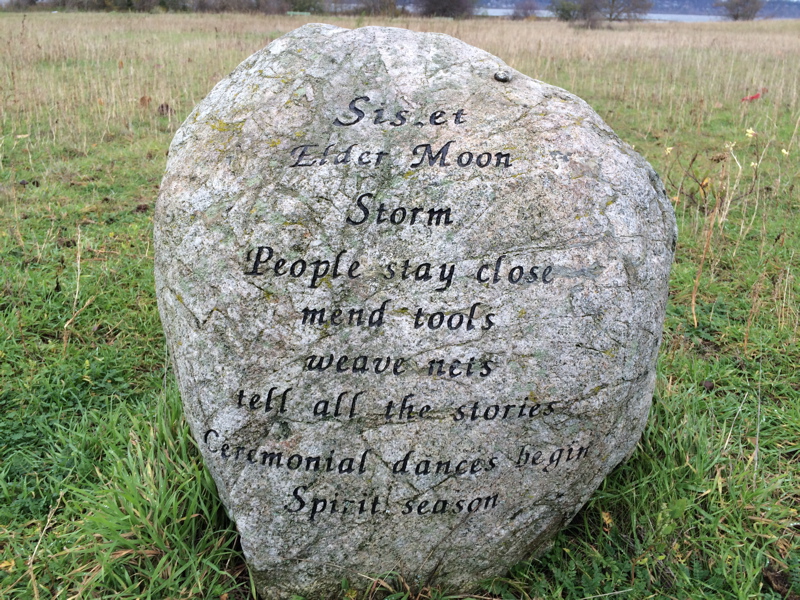 Most of my projects over the last few years have been collaborations, which opens up my world and allows me to work creatively with artists in other disciplines. Vetta Chamber Music's Joan Blackman approached me early last year to be part of fantastic project: a made-in-BC answer to Vivaldi's Four Seasons that would combine my music (a violin concerto for Vivaldi forces) with stories and spoken word by Sahtu Dene/Coast Salish storyteller Rosemary Georgeson. We would each look at the year of living next to the ocean and respond to it in our own ways: I from my experience as a relative newcomer to the coast and through my voice as a composer of classical concert music, and Rosemary, from her experience growing up on the coast with indigenous teachings and traditions and through her voice as a storyteller. The result is Seasons of the Sea, and the journey to get where we are, still a few weeks away from the premiere, has been profound.
In Crescent Beach, south of Vancouver, there is a stone circle, an art installation really, whose 13 stones are each engraved with one of the months of the Wsanec (Saanich) year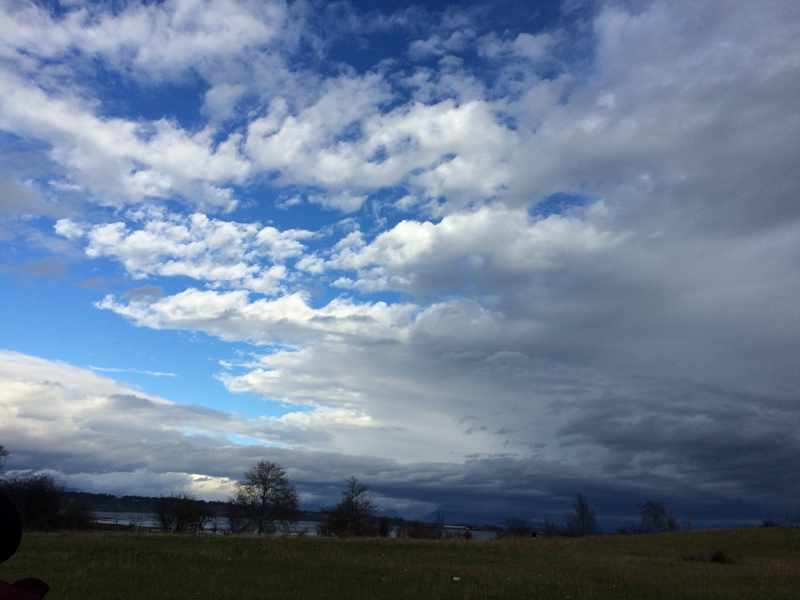 and a short description of what happens in that month. Last November, Rosemary, Joan and I met there to talk about how our different calendars relate, our experiences next to the sea, and how the piece might be shaped — in short, to get the creative juices flowing. From the beginning, there was a palpable synergy amongst the three of us, as we listened to the sound of the ocean, watched the November sky change, and followed the year through the stones.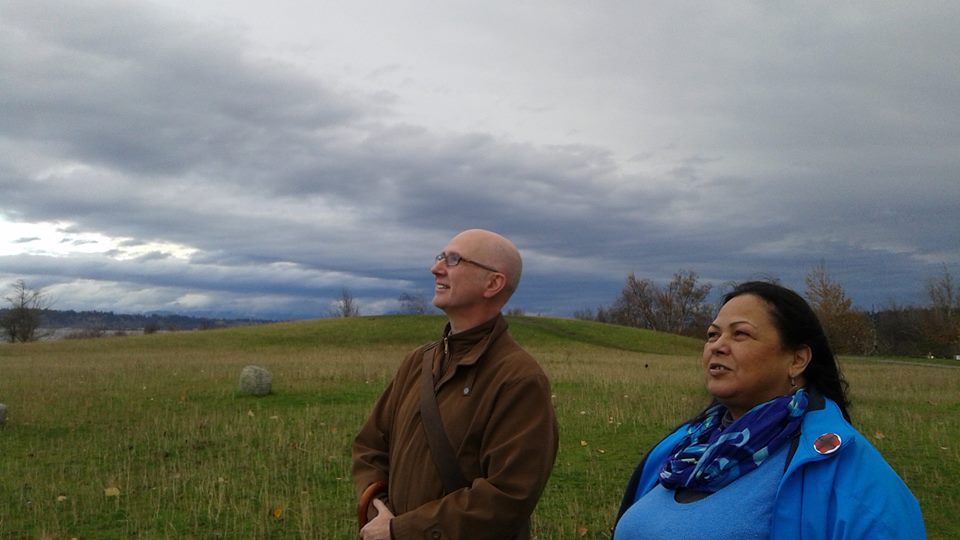 Then it was off to our respective corners. It was not the intention that I tell Rosemary's stories in music, but that we each approach the inspiration from our own "truths" (if you like), then we would intertwine what we each brought to the table. So I began the task of writing 20 minutes of violin concerto, with Joan as the soloist (someone I've been waiting a long time to write for!) and a small string ensemble (one player per part) with harpsichord.
Harpsichord! Yikes! I'd never written for harpsichord before. So part of my preparation involved having a tutorial with Michael Jarvis, who would be performing this piece, and who generously gave me his time to get me to the point where I wouldn't be giving him music that made absolutely no sense to a harpsichordist (I'll find out next week whether I succeeded). But this was another layer of this project that excited me — not only did I get to write for a instrument that was new to me, I would be putting a contemporary spin on an ensemble that had its heyday three centuries ago.
After more thinking and more research and planning the structure of the music, I started at the beginning (which is where I usually start, but not always). I wrote for a week and then tossed it aside and rewrote it all. I think the first minute of the piece took two weeks! I'm usually a much faster composer than that, but the beginning is what generates the whole piece, so it's got to be right. Over the next three months, I wrote sections of music, copied out the solo part, and sent it to Joan for feedback. One of the joys of writing for a specific player you know is that you can test things out and refine them as you go, tailoring it to the player but also solving most of the problems before the whole group rehearses. It's part of the composer's task to get it as right and clear as possible on the page so that you don't waste the performers' time!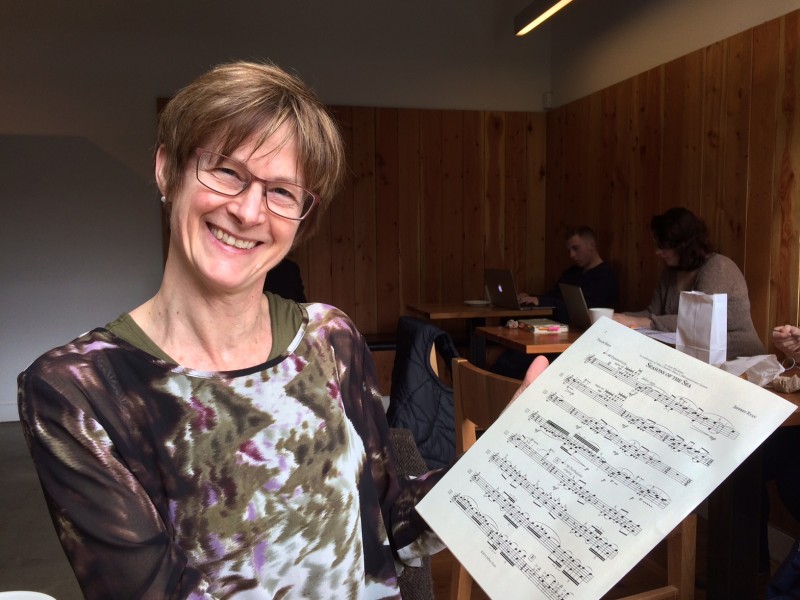 It's always a relief to deliver the printed music to a commissioner, but in this case our work wasn't done. While I'd been composing, Rosemary had been working on her stories, and our next step was for the three of us to get together to rip apart my concerto and weave in Rosemary's words. In mid-March, we spent three mornings together,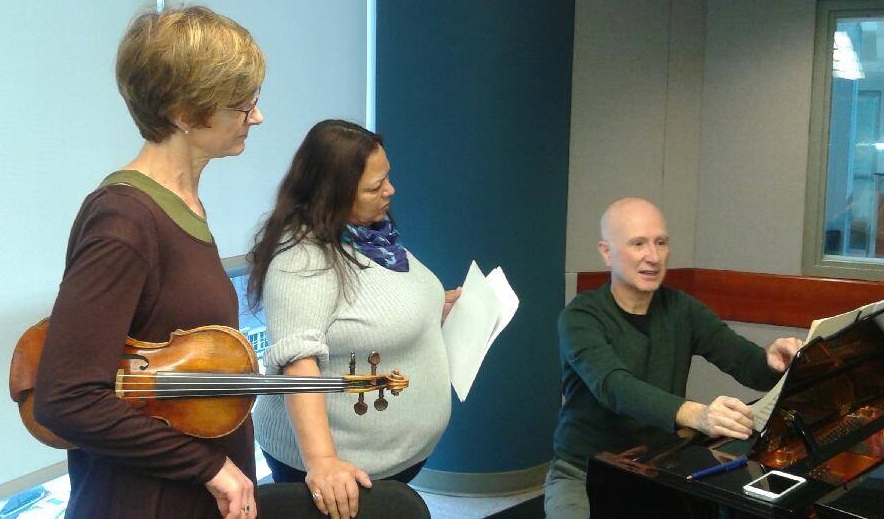 first playing the music in sections with Joan on solo and me faking my way through the harpsichord part/reduced score so that Rosemary could hear it, and then figuring out where the stories and music would connect. Sometimes we would hold a chord while Rosemary spoke, in her amazingly rich Salish voice, on top of the music. Sometimes Joan would improvise using some of the cadenza material, creating a back-and-forth dialogue with Rosemary. Sometimes the music would come to a dramatic halt and Rosemary would speak unaccompanied. We found so many different ways to connect words and music, which was important because the last thing we wanted was a bit of music, a bit of talk, a bit of music, a bit of talk — both music and words are woven together, to complement each other.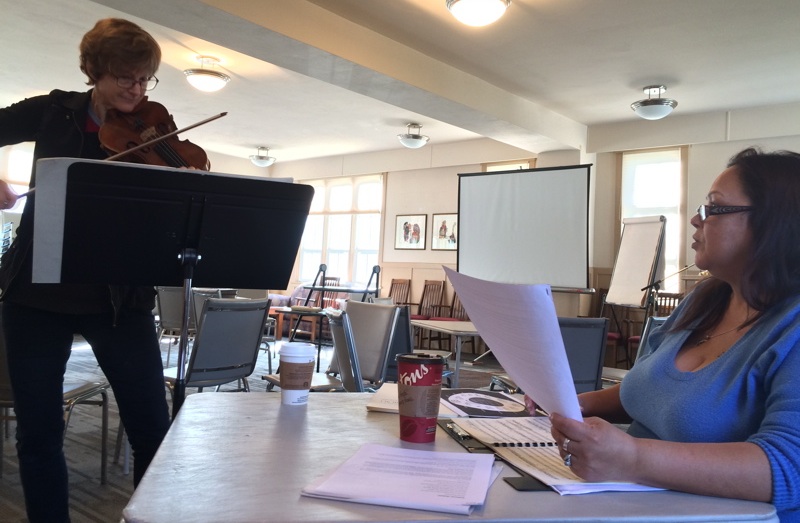 Those three mornings working together were incredible. As Rosemary talked about how she had structured her stories and I spoke about how I had structured the music, it was though we had been on the same wavelength the whole time. There were so many times that we would try something, and it would be such a goosebump moment we could only look at each other wide-eyed in silence.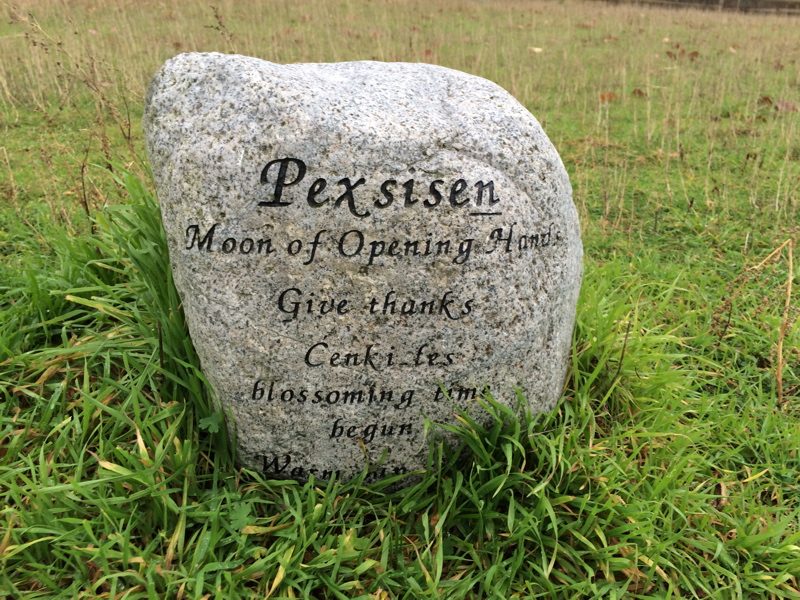 The music can stand on its own as a 20-minute concerto. The words can stand on their own as 20 minutes of stories. But together they become a 40-minute piece that is so much more than the sum of its parts, a piece that bridges cultures and centuries. Next week we bring all the musicians together, and the next phase of work begins: rehearsal!
Stay tuned for more, and check out Vetta Chamber Music for information on performances.
(Photo 4 by Joan Blackman; photo 7 by Larry Blackman)