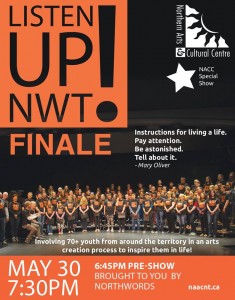 Last week, a year after the first meetings with all the partners (and two years after the wheels were first set in motion), I boarded the 41st and 42nd planes I've been on since October (it's been a busy season…) and made my way back to Yellowknife and the Northern Arts and Cultural Centre for the culmination of the Listen Up! NWT project. After being greeted by the now-familiar polar bear at YZF airport, the big week began!
As a good Canadian, I first must talk about the weather. What a difference six months can make. Last time I was in Yellowknife, at the end of the three-week school tour through the Northwest Territories, it was -42°C with the wind chill. Now it was blue skies and afternoons warm enough to go without a jacket. Had I brought shorts, I could have worn them. But it was disorienting to look out my hotel window at midnight, and still see a twilight sky. Though there were three weeks to go before the solstice, it still never really got dark. Thank you, Explorer Hotel, for thick curtains that blocked out the 4 a.m. sunrise beaming straight at my room!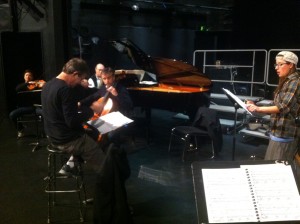 The travelling part of the Listen Up! team (Roman Borys, Annalee Patipatanakoon and Jamie Parker of the Gryphon Trio, conductor Rob Kapilow, and composer Carmen Braden) met with the Yellowknife-based part of the team (Yellowknife Youth Choir conductor Susan Shantora, writer Jamie Bastedo, and visual artist Terry Pamplin) to go over the plan for the week, and then it was to the first order of musical business: run through all the music I'd written for the show. The six-movement, 25-minute Midnight Sun Songs incorporated selected poems and melodies inspired by the Four Elements and written by the students Carmen and I had worked with on the school tour, to be performed by the Gryphon Trio and the 75-voice youth choir comprised of students from all six communities. Thanks to the massive organisational skills of Marie Coderre and her team at NACC, who basically put together a week-long arts camp, the students were soon to arrive. But we needed to make sure the instrumental parts worked and were free of errors, and anticipate any potential challenges for the kids, many of whom had never sung in a choir before. Thanks, Carmen, for being the entire choir!
By the next morning, all the students and chaperones had arrived from Inuvik, Hay River, Fort Smith, Fort Simpson, and Norman Wells. The school tour had been so memorable, and it was great to see so many these kids again, and their teachers! For a couple of months, the students had been working on the music in their own communities, in their small groups, which isn't easy. The first rehearsal was the first time that everyone would be singing together. I knew that everyone would come with some familiarity with the music, but the bulk of the learning would happen in these three rehearsal days, and there would be considerable strength in numbers. Conductor Rob Kapilow took everyone through the first pass, and hey, it was in pretty good shape already! Lots of notes and details still to learn, but we were on the right road! Rob conducts with tremendous and engaging energy, but doesn't let a detail go by and keeps everyone on their toes. We also broke for sectionals to work on even more details. Every day, the choir improved by leaps and bounds. It was amazing to watch (and hear) how quickly their strength as a group developed. Never underestimate what kids are capable of!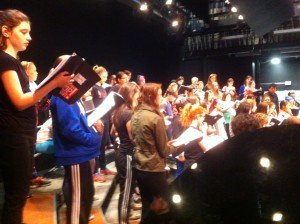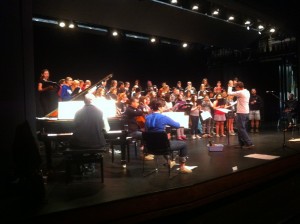 Of course we did take some time to hand out the official Listen Up! NWT T-shirt (our costume for the show) and take the official Listen Up! NWT portrait—which by necessity is very wide! It took a lot of good people to make this show happen!


Listen Up! is about more than just music though. Writer Jamie Bastedo and NorthWords Festival guests led writing workshops every afternoon, which resulted in some pretty amazing, powerful, and sometimes heart-wrenching "Six-Word Autobiographies". Visual artist Terry Pamplin did painting workshops that included several students painting in real time as the Gryphon Trio performed my Elemental. Carmen Braden led a group composition of a pop song, with a little help from singer-songwriter Leela Gilday, and made an arrangement for performance in the show that even included parts for some of the teachers (I sang backup vocals).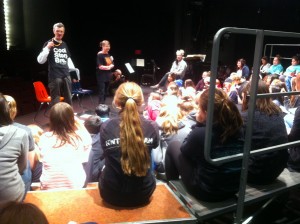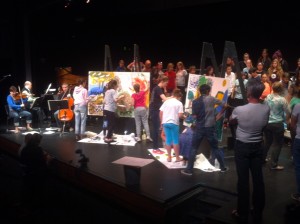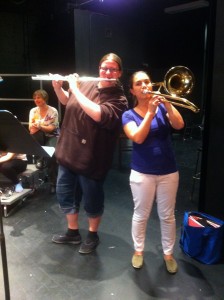 Finally, after a lot of hard work from everyone, it was Show Time. The pre-show included a little Guerilla Poetry, in which groups of students snaked around the arriving audience to read their poetry, while other students created percussion soundscapes from above the lobby. This was one immersive show!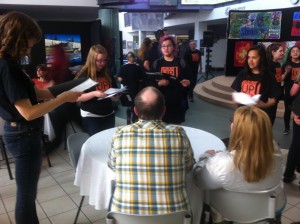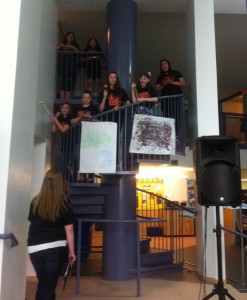 And then we were in the theatre, and I was helping out backstage. Unfortunately, being in the show means I couldn't take pictures of it! But from the choir's first notes, I knew it would be a special evening. These young singers performed outstandingly well, the upward trajectory of the week peaking at exactly the right time: Show Time. I was so happy for them! They achieved so much in a short amount of time and lot of hard work, and the 90-minute show of music, painting, writing, film and general creativity went by in a flash. Then it was to the lobby for cake, celebration, open-mike time, and hanging with new friends.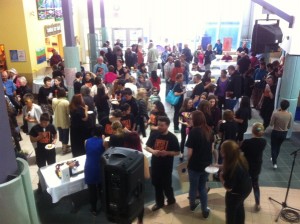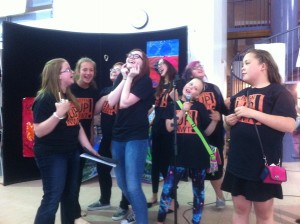 Hard to believe the next day, it was over. But we know this experience with continue to resonate for all of us involved. On to planes 43 and 44, and a last flight over the distinctive NWT landscape, the ice still in the process of breaking up.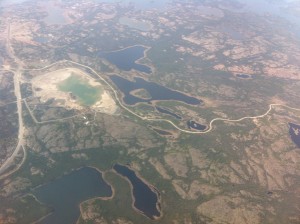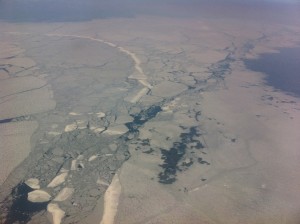 A final goodbye to my fellow travellers at the Calgary airport, and I was on my way back home to Vancouver. What a privilege it was to be part of such an amazing experience! Thanks to the Gryphon Trio for inviting me, to Rob, Carmen, Susan and all the teachers who worked on preparing the music, to Marie Coderre and everyone at NACC for making the whole adventure possible, and especially to all the student singers and composers who were both inspired and an inspiration, and who earned and deserved that standing ovation.
Poster and group photo: NACC
YYC photo: Roman Borys