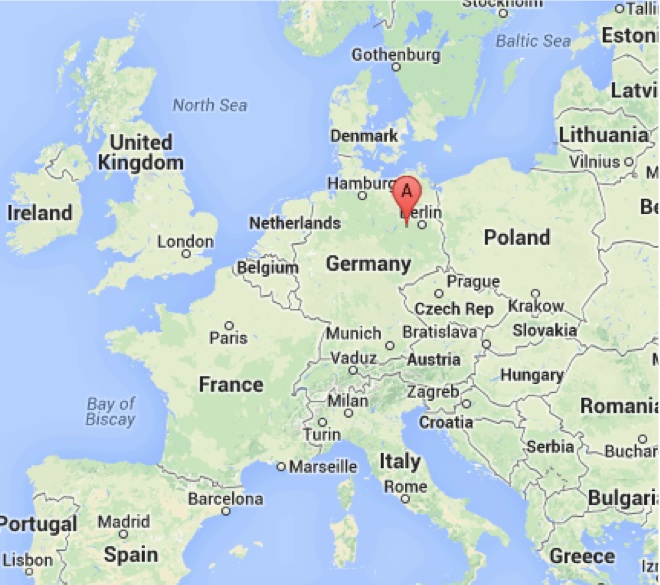 After Calgary I had a nice but brief 24 hours at home before heading back to YVR to make my way to Brandenburg an der Havel, Germany, for the fifth Brandenburger Biennale concert. Back in 2010, as part of the fourth Biennale competition, The Linearity of Light won the "Publikumspreis" (Audience Prize). The recordings of the pieces that were finalists for that competition were played for an audience, which (I have since been told) deliberated quite a while and very thoughtfully, and which ultimately chose my piece for a live performance by the Brandenburger Symphoniker.
Never having been to Germany before, and this being rather auspicious recognition for my piece along with being its European premiere, there was no way I was going to miss this. And it was soooo worth the trip!
The concert included the fifth Biennale winners, composers Ying Wang (who won the grand prize of a commission, so this was her world premiere) and Javier Torres Maldonado (who won the "Da Capo" prize of a repeat performance of an existing work). All three of us were there, and it was great to meet such an international group of composers. Ying is from Shanghai but lives in Köln, while Javier is from Mexico but teaches in Milan. There were a lot of languages going on!
I was there in time to hear the last couple of rehearsals before the big concert. And because I had innocently mentioned that I did a lot of onstage speaking, introducing new works to the audience, I was immediately conscripted to co-host the concert. Fortunately, I could do it in English, and the orchestra manager translated into German. Though so many people spoke enough English that I was told afterwards that I was perfectly understandable. With a little preparation I even managed to make a little joke in German which I thought was a pretty good accomplishment (thank you, Gabriel!).
Speaking of languages, it is amazing how quickly one's ear starts to become attuned. Of course I arrived prepared with the essentials — "My name is", "Sorry", "Nice to meet you", "Do you speak English?" and the all-important "I don't understand you at all" — but I soon started catching words that other people were saying, and I quickly picked up a bit more vocabulary so I could take a taxi and order food. Well, okay, there was that one moment in the restaurant when the server took my plate away and asked (in German) "Was everything all right?" but I thought he'd said "Would you like anything else?" to which I replied "Nein, Danke". Not the response he had hoped for, until my companions set me straight. Entschuldigung!
The concert was fantastic, was recorded for a podcast on the local internet radio (info on that coming soon) and was a big event attended by representatives from the Chinese, Mexican and Canadian embassies. Everyone involved — the organisers, my lovely hosts, the orchestra administration, the music director Michael Helmrath, and the talented players — were incredibly kind, generous and enthusiastic. Add in tours of a city steeped with history, plenty of delicious food, and a lot of warmth and laughs with new friends, and call it a week well spent.