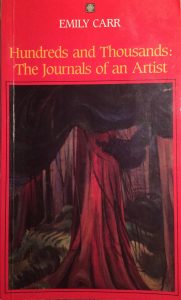 Ah, I have such grand plans for this blog, so much to talk about, but oh so little time—my last post was over a year ago! Sorry!
The month of March is replete with vocal performances. Which makes me very happy, because I love working with and writing for singers. Next up is the March 19 world premiere of Miss Carr in Seven Scenes, a 25-minute song cycle/monodrama-of-sorts commissioned by the Canadian Art Song Project and written for mezzo Kristina Szabó and pianist Steven Philcox. Art song is very close to my heart—while at school in Cleveland I met many wonderful singers, got to write for many of them, and I have been singing all my life, since learning Petula Clark's "Downtown" off the radio when I was three.
25 years ago, at Half Price Books in Cleveland, I found a copy of Emily Carr's published diaries. She wrote of her challenges and struggles to find her unique voice and to make a career for herself as an artist. Her journey spoke to me, reflected my own journey as I started out on my professional path, and, really, reflected any artist's journey even today. Though most of us don't breed dogs to make ends meet, or have a pet monkey.
I'm grateful to the Canadian Art Song Project for giving me the opportunity to create this work, after it had rolled around in the back of my mind for a quarter century.
We workshopped the piece back in January (an amazing experience—there is a spot in the piece that I anticipated Krisztina would make me cry, and she did, so, job done). The next day I sat down with pianist (and CASP co-founder) Steven Philcox to talk about creating the work and my love for art song and singers. Have a listen, and if you are in Toronto March 19, please join us at Walter Hall at the University of Toronto's Faculty of Music.